April 1st, 2019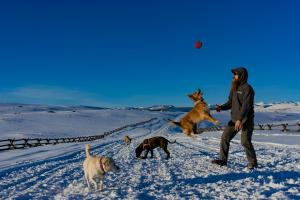 Life gives many turns and for the moment we are living in Pinedale, Wyoming. We will continue to explore our surroundings and we will persist sharing our adventures with you. We are surrounded by mountains we have the Wind River Mountain Range and the Wyoming Mountain Range in the background, we can not wait to go out and discover them.
In summer we will go camping again. It's very cold on winter. Lila, Lola, Cuache and Mosby are grateful to have a warm house and not to be exploring, we have been taking them out for walks. Cuache loves the snow, we think it he will be sad when it melts, but new smells will come out and he will forget about it.
I am working on getting my Green Card, meantime that happens I have a personal project. I will be following a ranch in their activities and sharing them with you the lifestyle that is unique and special to Wyoming. True Cowboys.
Keep discovering with me, my wonderful life in Wyoming!